Site born on: 18th March, 1997

This site is best viewed in 1024x768 resolution. If you want to contact me please refer to the bottom of the page for details. You can support my site by buying your Alanis music from the links throughout my site. Thanks!
Today I have uploaded some pictures from an old photoshoot as well as a newish nice pic of Alanis (thanks Jennifer) to the "misc gallery". There are 3 new poems in the Poem Corner (thanks to B.B. and Zephrum) and I'm working on putting the "All I Really Want" video online. Yes there is a video, but it wasn't released, so keep an eye on this site.
I also added 2 new articles thanks to Heather.
Sorry it's been a while since I updated. In this update I have added 3 more poems (thanks Diana, Gary & Pablo), 2 articles (thanks David & Ryan) and 1 Fan Section entry (thanks Sarah!).
The video for 8 Easy Steps is available for download frorm the official site. Thanks everyone for visiting!
I finally found some time to bring some more poems online and add another Fan Section entry. Thanks to everyone who submitted material.
Andreas has given me the following info on the Alanis single available in Austria/Germany: the Out Is Through single came out on the 5th July and the tracklisting is as follows:
"Out Is Through" (Album Version)
"Eight Easy Steps" (Vancouver Sessions)
"This Grudge" (Vancouver Sessions)
Andreas also says that there is NO videoclip on the single and the version of "This Grudge" is identical to the one on the enhanced part of So-Called Chaos.
Now to some sitestuff: apparently some of the pics I have in my "On The Street" galleries have come from another site (Fabulous Freak) and the site owner asked for credit, so I have added a link to my links section on the left. It's a long story and I did not entirely agree as to the real source of the pics but hey, these things happen. I unfortunately don't have the time to go back and check which ones they were and give credit to every single one. So in the future if people are submitting pictures to me please let me know where they came from so I can credit the source properly. Keep them coming!
That's it for today...stay tuned cause I have the Alanis interview on the Howard Stern show coming up in the next update... :)
***Update***
For everyone who hasn't seen the Out Is Through video yet, it has been released on Bittorrent and eMule. It's a high quality large version (45MB) so be patient when downloading.
The torrent can be found on Suprnova and the eMule version is mostly on the Razorback2 server since not many people have shared it yet.
***Update End***
Thanks to Cesar:
8 Easy Steps will be the single in North America, but Out Is Through will be the single everywhere else. It comes out July 26th in the UK and Australia. The video is already playing in Europe and the video for 8ES was directed by Liz Friedlander (who also did You Learn) and should start airing next month in the US/Canada.
Hi everyone, today I want to let everyone know about a fairly new forum for fans of Alanis. It's called AlanisChat and can be found at www.alanischat.com. The Admin, Ed, has been working very hard on this forum and has asked me to help him moderate it. It's a great opportunity for fans to interact with each other and get news, pics etc. So get over there, join up and check things out. The more people use it the more fun and interesting it becomes. Express yourself and meet new people.
Alanis got engaged to her boyfriend Ryan. More info here and here. Thanks to David for the heads-up. There are some poems that are waiting to go online so for those who sent them in - please be patient they will go online soon.
I added a new article and a new interview, check them out here. Also, say hello to Felix, our latest addition to the Fan Section. Thanks to everyone who has written to me with feedback about the site, I appreciate all the nice comments :)
Another small update, I added two poems and an entry in the Fan Section. New articles are going online very soon. I have added the new album cover to the gallery too.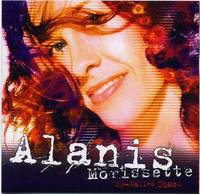 Well to day is the day...I picked up the album and single. Of course the lyrics are now online and there are more updates to come. The album should be available internationally from yesterday so check out your local stores or support me and buy the album from the links above *beg beg*.
According to a German Music TV station (VIVA), the next single from the new album will be "Eight Easy Steps", but only in the US. In Europe the next single will be "Out Is Through". I guess we'll see what it will be for Australia...Thanks to Andreas for the info.
Oxygen.com have an entry from Alanis' journal on their site as well as a link to a competition to win the opportunity to spend a day with Alanis. Thanks to Pete for the heads up.
Alanis is starting a tour with The Barenaked Ladies - the tour is called The "AU NATURALE" tour. I have added the tour dates to the box on the left. The promo pic for the tour is below:
Looking forward to the "Au Naturale" tour, Alanis says: "I've loved these crazy gentlemen for years, and it will be a true honor traveling around America making some joyful noise with them. I look forward to being with a group of people who will not snicker to themselves when I say the word 'about' or 'eh'…making art and cracking up on tour with the Barenaked Ladies sounds like a fantasy summer to me."
Phew! Just added a big chunk of pics to the "Promo" 3, 4 and 5 and "On The Street" 3, 4, 5 and 6 galleries. There are some more poems on the way as well as more pictures so stay tuned.
Today 2 more poems were added to the Poem Corner, thanks to Peter and Todd. Also, the new single "Everything" is getting more and more airplay here in Australia, especially on Nova 93.7. The video has been shown a few times now on Rage on thre ABC and I noticed that the version on the radio is usually the "nightmare" version whereas the video on Rage is the "asshole" album version. Interesting....
Also happy Easter to everyone...I know it's almost over but anyway :)
Here are some news stories about Alanis' appearance at the Canadian Juno awards as well as some pics of her "naked". Thanks to Erwin :)
Thanks to my reporter Erwin I can point you to two new articles about Alanis' new single "Everything". She had to replace the word "asshole" so that radio stations will play the single. Read more about it here and here.
Well the single hasn't been released yet and the album release date has been pushed back to the 18th May.
Organic Style Magazine has a promotion at the moment were you can get the latest issue for free (it has Alanis on the cover as you can see from the photos below). As always, click on the image to get the larger version. For your free copy, send an email to organicstyle@electricartists.com with your name and mailing address and they will send you one. Just mention the promotion so they know what's going on. Also feel free to check out Organic Style Magazine's website here to see what it's about.
Updated the poem corner, thanks to everyone who submitted their work.
There is definitely some buzz starting about the new album, we have an official press release which confirms the album release date of 13th April and the single release date of 23rd February. It also gives a confirmed track listing:
Eight Easy Steps
Out Is Through
Excuses
Doth I Protest Too Much
Knees Of My Bees
Not All Me
So-Called Chaos
This Grudge
Spineless
Everything
For the full press release just follow this link. There are several articles about the new album on Yahoo and other sites but they are basically rewritten from the official press release. All the info you need is on that one. Thanks again to my news chief Erwin for pointing me to some of the sites.
Happy New Year everyone! The first update this year is a rather exciting one, as there is news about the new album. The following is taken from the website where it was posted, the source is below. Thanks go to Erwin for sending this to me.
**************************
ALANIS MORISSETTE is to release the follow-up to 2002's 'UNDER RUG SWEPT' on April 12.
'So-Called Chaos' was recorded in one of Jackson Browne's studios in Santa Monica and produced by John Shanks (Sheryl Crow, Pink ). The album is set to include the tracks, 'Eight Easy Steps', 'The Grudge', 'Knees Of My Bees' and the first single 'Everything'.
Aside from writing and recording new material, Morissette recently starred in an off-Broadway production of 'The Exonerated' and is set to feature in an upcoming biopic of Cole Porter, starring Kevin Kline and Ashley Judd.
'Everything' will be released on April 5.
**************************
More poems to go online soon.
Last year's stuff has been moved here